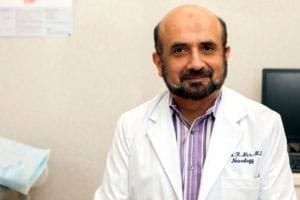 Medical College
Administration, Loyola University
Special Interests
General and Children's Health
Dr. Mir has been practicing Neurology in Western Maryland since 1996 with practices in both Hagerstown, MD and Cumberland, MD.
He is board certified in Neurology and Clinical Neurophysiology (EEG & EMG), and completed his internship in Internal Medicine at the New York Medical College/Westchester County Medical Center.
His residency in Neurology was accomplished at the New York University Medical Center, and he completed his fellowship in Clinical Neurophysiology at the New York State University Science Center.
Dr. Mir is a member of numerous medical associations, including:
The American Association of Neuromuscular and Electrodiagnostic Medicine
American Academy of Neurology
Allegany County Medical Society
Washington County Medical Society
Med Chi (Maryland Medical Society)
Dr. Mir resides in Hagerstown with his wife, Naheed, and four children. He enjoys spending time with his family, traveling and is an avid reader.
American Academy of Neurology
Allegany County Medical Society
Washington County Medical Society
Med Chi (Maryland Medical Society)