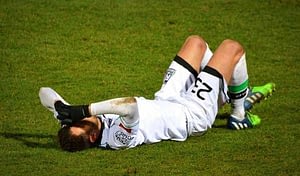 Sports-related neurological injuries are not just limited to the injuries that occur due to participation in sports, but can also occur in various other situations such as falls, vehicle collisions, and even from exercise to name a few. Sports-related injuries can lead to neurological conditions that can extend to months or even years. However, proper treatment of the ailment is necessary to avoid the long term effects that the injury can leave. At Mir Neurology and Spine Center, we have a dedicated team for the management of sports-related injuries who are professionals with extensive training. Our services are provided at two different locations where our staff is dedicated to providing timely care so that one can return to his/her desired activity.
Mostly, sports-related injuries are due to overuse of joints and muscles or trauma. Those including minor trauma involves ligaments, bones, muscles, tendons, and includes conditions such as:
Sprains
Bruises
Fractures
Strains
Dislocations
What are sprains?
When the ligament is stretched or torn, the condition is known as sprains. The ligament is basically a flexible band of fibrous tissues that connect bones to cartilage and bones to bones. This injury affects the knees, ankles, and wrists.
What is a bruise?
It is an injury to soft tissues that is caused by either forceful kicks or blows. In such a condition, the patient feels swelling, pain, and discoloration in the affected area.
What is a fracture?
When the bones break by a fall or a blow, fractures occur. It may be a hairline fracture or a compound fracture in which the broken bone protrudes through the skin causing immense pain. Arms and legs are more prone to fractures. One form of fracture is stress fracture which happens after leg or foot training after running, gymnastics, or other sports.
What is the strain?
When the tendon or muscle is pulled or torn by overuse of force, it stretches. Tendon connects muscles to bones. Tennis elbow is one such example of the conditions where there is immense pain on the backside of the forearm or elbow.
What is a dislocation?
When a ligament experience an extreme force, then it leads to dislocation of the joint where the ends of the two connected bones are separated.
Other sports-related injuries include the following conditions which are treated at our center:
Concussion
Rhabdomyolysis
Sciatica and Low Back Pain
Post-Concussion Syndrome
Chronic Exertional Compartment Syndrome
Spinal Cord Injury
Repetitive Use Injury
Myofascial Pain Syndromes
Whiplash Injury
Nerve Damage to Arm or Leg
Heat Stroke/Heat Illness
Memory Impairment
Symptoms
Many times tingling, numbness, weakness, and pain will accompany a sports-related injury. It is important to find out what is causing your pain so that you can begin the healing process.
 When to see a doctor
Everything from tennis elbow, torn rotator cuffs, lower back pain, heel injuries, and knee pain can sideline active people. If you are injured playing a sport, it is important that you find out quickly what is causing your pain or weakness. If you have persistent signs and symptoms that might be due to Tarsal Tunnel Syndrome that interfere with your normal activities including sleep, call your doctor's or podiatrist's office to schedule an appointment with Dr. Mir.
 Tests and diagnosis
Several tests the doctor may order include x-rays, MRIs, Electromyography (EMG) and Nerve Conduction Study (NCS) can help to diagnose the injury and get you on your treatment plan quickly. Any pain in your arms, legs, hands, feet, back, and neck can be diagnosed by Dr. Mir using these tests.
 Patient support
Treatment of injuries may include physical therapy, exercise, braces or orthotics, surgery, and selective nerve injections. It is also important to develop strength and conditioning programs to help prevent future injuries.