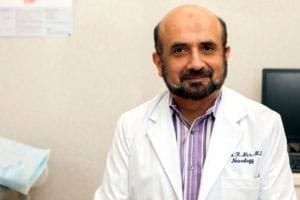 Comforting Pain and Restoring Neurological Functions
The specialists at Mir Neurology & Spine Center are dedicated to treating patients with various neurological conditions affecting the spinal cord and the spine. Our services include treating conditions such as Sports-Related Injuries, Work-Related Injuries, Back Pain, Pinched Nerves, Tingling & Numbness, and various other conditions through Nerve Conduction Study (NCS), Electromyography (EMG), and Electroencephalogram Testing (EEG).
About Dr. Sarim Mir
Our team is led by experienced Neurologist Dr. Sarim Mir, who is highly renowned in the local medical community, and is board certified in both Neurology and Clinical Neuro-Physiology (EEG & EMG), and has completed his internship in Internal Medicine at the New York Medical College/Westchester County Medical Center. Dr. Mir has been practicing Neurology in Western Maryland since 1996 with practices in both Hagerstown, MD and Cumberland, MD.
Conditions We Treat
Our center treats a wide range of neurological conditions. Some of which includes:
Sports-Related Injuries,
Work-Related Injuries
Back Pain
Pinched Nerves
Tingling & Numbness
Carpal Tunnel Syndrome (CTS)
Tarsal Tunnel Syndrome
And others
In order to help you further, we have also professionally developed a high-quality education series designed to help educate patients about their neurological conditions – plus the tests and procedures we use to treat them.
Clinical Trials
Clinical trials conducted at Mir Neurology & Spine Center provide developing treatment options for participating patients. The center specializes in trials including:
Alzheimer's Disease
Multiple Sclerosis
Parkinson's Disease
Other disorders of the Central Nervous System
For more information on our clinical trials, visit our concerned page.
Referring Physician
Our patient referral form makes it easier for physicians to refer their patients. The form can be printed, filled and later on faxed to us. Our center will contact you within 3 business days of receiving the request.
Request an Appointment
Making an appointment is easy. We see all patients on an appointment-only basis, and each new patient consultation will last 30 minutes. You can book your appointment by calling us at (301)-797-7600 or via our secure online contact form.